A warm, fuzzy blanket on a cold day. A cozy bubble bath. A bubbling pot of mac and cheese. Some things just about scream "comfort" the moment you feel, smell or taste them.
"Comfort foods are a great way to reconnect to nostalgic and satisfying experiences around the table," explains Rachel Fine, RD and owner of the nutrition counseling firm To The Pointe Nutrition in New York City.
Research proves this to be true: An October 2017 report in the International Journal of Gastronomy and Food Science found that when someone's feeling lonely or isolated, comforting meals can serve as a reminder of positive social encounters they experienced in the past.
We're not into feeling guilty about any food indulgences — and comfort foods can absolutely have a place in a meal plan, even a healthy one, Mary Stewart, RD, LD, the founder of Cultivate Nutrition, reminds us.
These comfort foods have the added benefit of making your meal plan more sustainable long-term because they include foods you enjoy so you won't feel deprived, adds Michelle Hyman, RD, CDN, a dietitian at Simple Solutions Weight Loss. They also pack in plenty of satitating protein without as much fat as the traditional recipe.
So plug in your pressure cooker and slip on your softest sweater. It's time to get cozy with these healthy Instant Pot comfort food recipes.
Related Reading
1. Keto, Low-Carb and Gluten-Free Chicken and Dumplings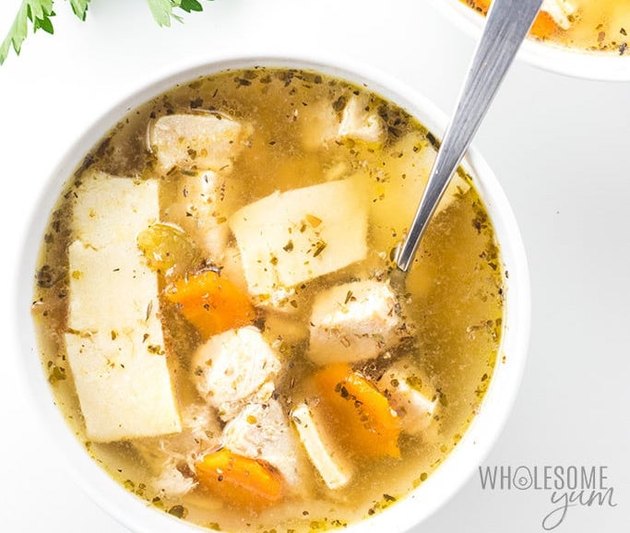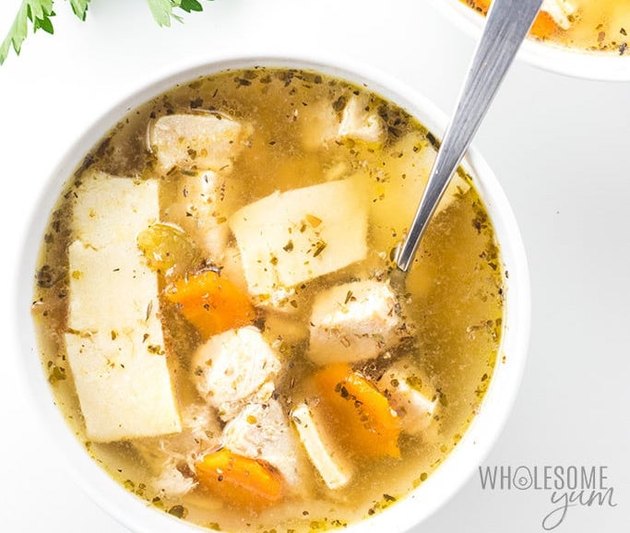 "Chicken soup, like this chicken and dumplings recipe, is my favorite Instant Pot comfort food," Fine says. "It's easy to sneak in a ton of nourishing options like colorful veggies and hearty fibrous grains like quinoa."
This version is loaded with vitamin-rich carrots, celery and onions as well as plenty of protein by way of chicken. Feel free to follow Fine's lead and trade the homemade dumpling dough for your favorite whole grain if you're in a hurry.
Get the Keto, Low-Carb and Gluten-Free Chicken and Dumplings recipe and nutrition info at Wholesome Yum.
2. Instant Pot Turkey Chili
Healthy stews do exist, but chili is often high in calories and fat due to richer cuts of beef and higher-calorie flavor boosters like chocolate, beer or butter. And that's before topping things off with decadent garnishes such as avocado, cheese or sour cream.
Here, ground turkey teams up with loads of lycopene-rich, heart-healthy tomatoes, fiber-filled beans and plenty of broth to stretch the meat. (Each bowl has a reasonable yet satisfying 3 ounces of turkey.)
3. Instant Pot Beef Stroganoff
This hearty beef pasta uses a bit of butter and olive oil for flavor, but calls for whole-wheat egg noodles for more fiber and Greek yogurt instead of condensed soup for additional protein, less sodium and fewer additives.
If you're craving even more color and flavor, toss in some produce. "My favorite savory comfort foods are creamy pasta dishes. I always add a green vegetable like broccoli or asparagus," Stewart says.
Get the Instant Pot Beef Stroganoff recipe and nutrition info at Well Plated.
4. Healthy Instant Pot Mac and Cheese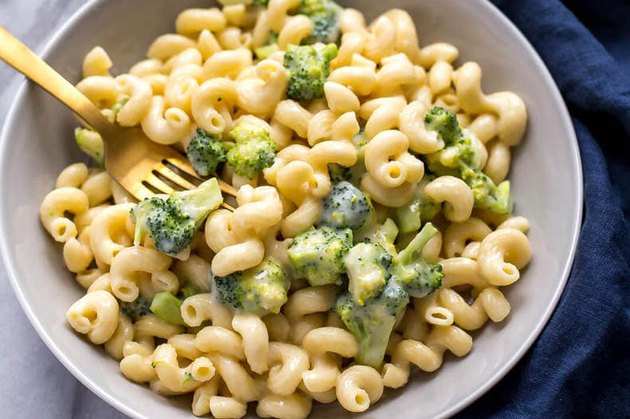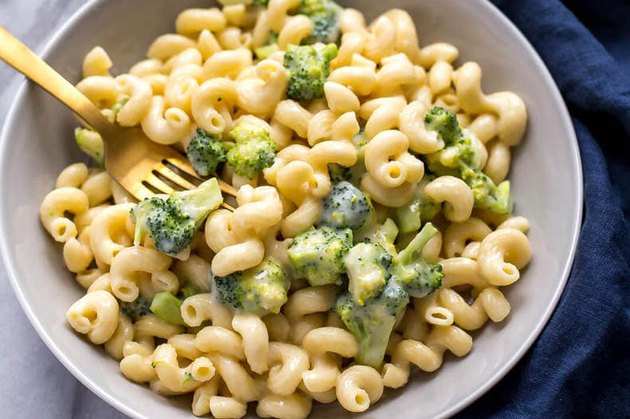 This creamy mac and cheese gets a healthier twist with antioxidant-rich broccoli. Each serving packs 414 calories and 22 grams of protein.
"Lentil pasta has a neutral flavor and is packed with protein and fiber [13 grams and 6 grams, respectively, in the aforementioned Barilla pasta], both of which can help you feel more satisfied for longer periods of time than standard white pasta," Fine says.
Get the Healthy Instant Pot Mac and Cheese recipe and nutrition info at The Girl on Bloor.
5. Instant Pot Turkey Bolognese
Omit red wine, oil and butter to trim more than 500 calories from this bolognese dish, and reduce the saturated fat with ground turkey instead of ground beef.
To add more nutrition to this meal, consider using chickpea or lentil pasta in place of the whole-wheat noodles this recipe calls for.
6. Favorite Instant Pot Gumbo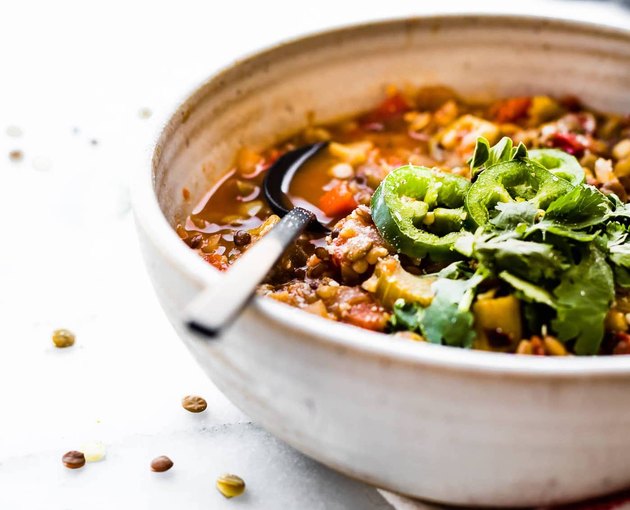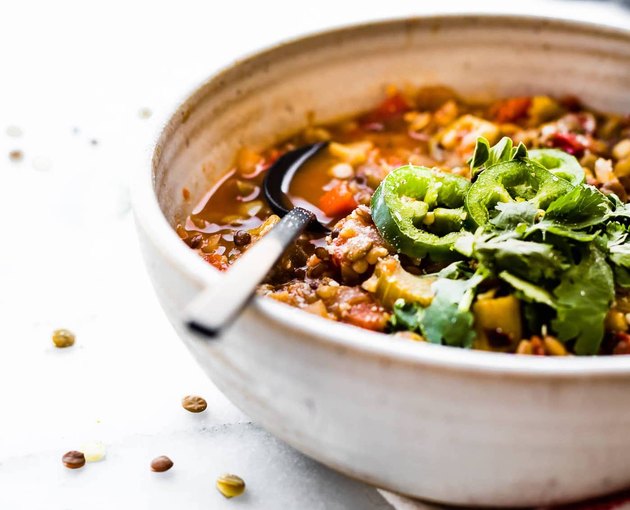 To enjoy a taste of New Orleans no matter where you live — and in less than 30 minutes — try this Instant Pot gumbo. No sausage, shrimp or butter is required when you layer on flavor with a variety of seasonings and load up each bowl with aromatic veggies.
Instead of rice, enjoy your serving of spicy gumbo with cauliflower rice or Hyman's pick: Whole grains. "Try brown rice, wild rice or quinoa instead of white rice in comfort food recipes," she says.
Get the Favorite Instant Pot Gumbo recipe and nutrition info at Cotter Crunch.