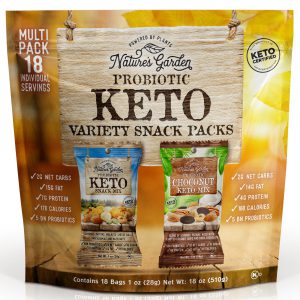 TOTOWA, N.J.– Cibo Vita has expanded its popular Nature's Garden Keto line with the introduction of Probiotic Keto Variety Snack Packs, a two-in-one snack variety pack. The product includes: savory Probiotic Keto Snack Mix, featuring a variety of healthy nuts and tasty cheese balls, and a newly launched sweet counterpart, Choconut Keto Mix, which includes nuts, Keto friendly dark chocolate and coconut chips.
Probiotic Keto Variety Snack Packs will be in club stores in August as well as on naturesgarden.net and amazon.com/naturesgarden. Since its launch early this year, the original Keto Snack Mix has consistently received 'Amazon Choice' accolades and has been featured on Amazon's "100 Top Picks – Snack and Trail Mix" category.
Probiotic Keto Snack Mix:
Almonds, Pepitas, Walnuts, Cheese Crisps, Macadamias, and Hazelnuts
2g net carbs, 15g of fat, 7g protein, 170 calories, 5 bn probiotics
Probiotic Choconut Keto Mix
Almonds, Pecans, Hazelnuts, Roasted Coconut Chips, and Dark Chocolate
2g net carbs, 14g fat, 4g protein, 160 calories, 5 bn probiotics
There are 18 one-ounce packs total in each package. The Probiotic Keto Variety Snack Packs will join the 18oz Keto Mix currently available at Club Stores. No other snack food on the market features Probiotic HOWARU® Shape, a unique formula of 10 billion Bifidobacterium lactis B420™, a naturally occurring strain of probiotic. Our probiotics have been clinically shown to shed belly fat during human trials and to improve digestive wellness. Pecans and macadamias boast the highest amount of fat to carb ratio, while almonds and pepitas are nutrient-dense, and cheese, which raises the saturated/unsaturated fat ratio, provides high-quality protein. All of the ingredients are derived from naturally occurring sources, eliminating the need to add oils or additional fats. Further, Probiotic Keto Variety Snack Packs fills the need of the Keto diet community for a product specifically designed for them rather than just a snack that meets minimal "Keto guidelines."
About Cibo Vita
Founded in 2009, Cibo Vita began by producing private label products as well as a brand called Woodpecker. Both consisted of dried fruit and nut combinations for supermarkets nationwide. Nature's Garden is the company's flagship brand that launched in 2011. Nature's Garden's mission is to continuously create innovative products that promote functionality, digestive wellness, and heart health, as well as offer products that are energy-boosting and address a Ketogenic diet. The brand features over 65 SKUs with various combinations of nuts, seeds, dried fruit, trail mixes, and coated pretzels. Nature's Garden products are sold on the company's online store as well as in supermarkets, big box, drug chains, health food, and convenience stores as well as warehouse clubs nationwide. Cibo Vita holds the following certifications: Keto, RSPO, UTZ, Kosher, Organic, Paleo, and Gluten-Free. Its manufacturing, distribution, product development, warehouse facilities, and corporate offices are based in Totowa, NJ.
For More Information:
https://naturesgarden.net/products/natures-garden-probiotic-keto-variety-snack-packs?_pos=3&_sid=8677fd198&_ss=r