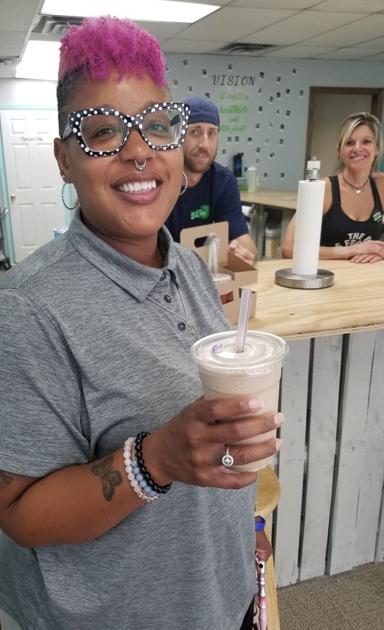 FAIRMONT — Gwen Washington was on her way to work at the Hampton Inn when she made one of her usual two daily stops at FitLife Nutrition. One this trip, she ordered her favorite drink, a cinnamon toast crunch shake.
Sometimes Washington orders a peanut butter cheesecake shake. Sometimes she tries another shake from among the 120 different flavors offered. Chugging a couple shakes each day has been her routine for six weeks now and the weight and inches are falling off her body, she said.
"I have two shakes every day and I've lost five inches off my waist and thighs, as well as another inch and a half off each arm," said Washington, who lives in Fairmont.
FitLife Nutrition is one of downtown Fairmont's newest businesses and it's growing clientele are among the most passionate and dedicated anywhere.
"Normally, I get the cinnamon toast crunch shake. It tastes like the milk at the bottom of a bowl of cinnamon crunch cereal. Please don't tell me you've never drank the milk out of the bottom of a cereal bowl because we all have," said Washington. "Oh my god, it's so good."
The brainchild of Fairmont's Cresta Stedman, FitLife Nutrition bills itself as a health food store, but it's the low-cal, high-protein shakes most customers order. The owner said her business' growth has exceeded her expectations.
"On our busiest day so far, we moved more than 309 shakes through the door," Stedman said. "Business is fantastic."
For the uninitiated who are confused by how a steady diet of shakes can help lead to weight loss, Steadman explains the concept.
"We make nutritional protein shakes, but they taste like milkshakes," she said. "They're meal replacements. The shakes have the nutritional equivalent of a 1,500-calorie meal, but the most calories any shake has is 250. Many of them have only 155 calories. They taste like you're doing something bad, but you're not."
Shake prices top out at about $5 for a large.
Stedman said she offers every new customer a FitLife tutorial and tasting.
It goes something like this:
"When a customer visits for the first time, I explain everything because I want them to know what they're putting into their body. For example, we begin with a shot of mango-flavored aloe, which has 75 different healing agents in it," Stedman said. "It's good for your hair, skin, nails, and helps with digestion, acid reflux, and helps prepare your body for all the nutrients it's getting ready to take in from the shake."
After the shot of aloe, she moves on to the star attraction.
"Then you get the shake, which is full meal replacement. Each shake contains 17-24 grams of protein, 21 vitamins and minerals and less than nine grams of sugar, all of it plant-based," Stedman said. "There are about five net carbs in a shake, which work well if you're a keto follower. And there's four grams of fiber."
And if it sounds dairy-intense, it's not. There's no milk to be found at FitLife.
"Our products are completely dairy-free, so if you're lactose intolerant it won't upset your stomach," Stedman said. "You get a full meal in one glass and it tricks your body into thinking it's a milkshake. It tastes like you're doing something bad."
In addition to shakes, tea is the No. 2 best-seller. But this isn't your grandmother's iced tea.
"We use aloe to sweeten our tea because we don't use anything artificial. The tea has thermogenic properties that boost your body temperature and will cause you to burn 80 calories just by drinking a glass of it," Stedman said.
Every Sunday, FitLife hosts a free "Wellness Challenge" for its most dedicated customers, a sort of combination between a Weight Watchers meeting and therapy session.
"It's more like a support group. It consists of weighing-in on scales that measure everything from pounds to water retention, sharing healthy meal plans, and sampling meals I've prepared from our different plans," said Stedman. "I show them eating healthy on a budget doesn't have to taste like cardboard. We laugh, we cry, we talk. We hold each other accountable."
Stedman spent 23 years on the road as a professional mover, where her job required her to drive a truck cross-county, relocating the contents of homes and office buildings. When she returned to Fairmont, she felt the locals might appreciate an outlet like FitLife.
"I thought to myself, 'I've got to open this in Fairmont because Fairmont really needs it.' It was almost surreal to see how many people actually want to be healthy and love the idea of what we offer," she said.
Washington is an example of Stedman's vision personified.
"I count Weight Watchers points and a large skinny shake is only one point," Washington said. "I began my journey to health when I saw a number on my scales that I never thought I'd see. After six weeks of shakes, I've got more energy than ever before."
Washington said a key for her is the satisfaction the product elicits.
"Even though it's a skinny shake, it doesn't taste like you're depriving yourself of anything. The first time I tried it, I was like 'Are you sure you gave me the skinny one?'" she said. "I drink one shake each day at lunch and another before bedtime to keep me from eating because at nighttime we want to snack."
Aaron Kirwan, of Monongah, a FedEx driver for 20 years who quit to work at Fit Life with Stedman, is also an aficionado of the products he mixes.
"I've lost 42 pounds since beginning a FitLife routine. I went from a 38-inch waist to a 30. I usually have a shake a day and plan my meals ahead of time," he said.
Before adopting the FitLife approach, Kirwan said he woke up every morning sore, his joints aching.
"I used to feel like I'd been hit by a train every morning, but now I feel a ton better," he said.
In some ways, FitLife Nutrition has been a victim of its early success. Only six weeks into operation, Stedman said her landlord is forcing the business to relocate from its Cleveland Street location, citing too many customer cars taking up too few building parking spaces.
"We're getting evicted because we're too busy. We're prospering. The landlord doesn't like how much traffic we're bringing in and out of here," Stedman said.
The new location will be only a block or so away on Monroe Street, near the former city police station. FitLife will be in its new location in about a month, but will remain at 317 Cleveland Ave. until then.